Open scriptorium
'Write like a monk'
Bet that you've never written with a goose quill pen. This is your chance!
Just imagine: in the Middle Ages there were no printers or printing presses. Monks wrote books by hand with a goose quill pen. The most beautiful letters and decoration were made this way. Hard to believe!
Would you like to try your hand at it? It's possible, so dress up like a monk and challenge your father, mother, grandfather or grandmother: who can make the most beautiful letters?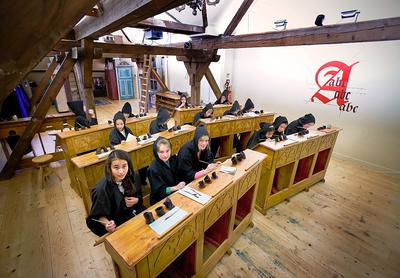 WHEN
Every Saturday afternoon between 12:00 and 16:30. No reservations are necessary.
PRICES
The workshop is free (included in the museum entrance fee).